Manage eCommerce Returns Effectively.
When running an online store, it is crucial to ensure that you manage eCommerce returns effectively. True, returns are unavoidable in an online business, as you cannot please all customers at the same time. It is here that you could make the process to return items easier for shoppers. Better still, it might help to also focus on making the experience better. This could translate into better return on investment.
How To Manage eCommerce Returns Effectively.
Dealing with returns is a crucial part any e-tail business plan. Returns management is a skill that presents you with an opportunity to build trust with the customer. Remember, you cannot eliminate returns. True, it hurts when a customer asks for a return because it costs time and money. What's more, there is a risk of damaging the product in the process. So it would help to learn how to manage eCommerce returns.
It begins with focusing on creating the best experience for customers. That means the product should win their heart as soon as they open the package. When you create such an awesome customer experience, you can reduce the risk of returns and refund. Better still, they are more likely to share their positive experiences with others. It is in your best interest to take steps to reduce the number of returns as it cuts your profit margins and threatens your brand reputation.
Related: 3 Ways to Make Returns Easy for You and Your Customers.
Why Do Customers Return Products?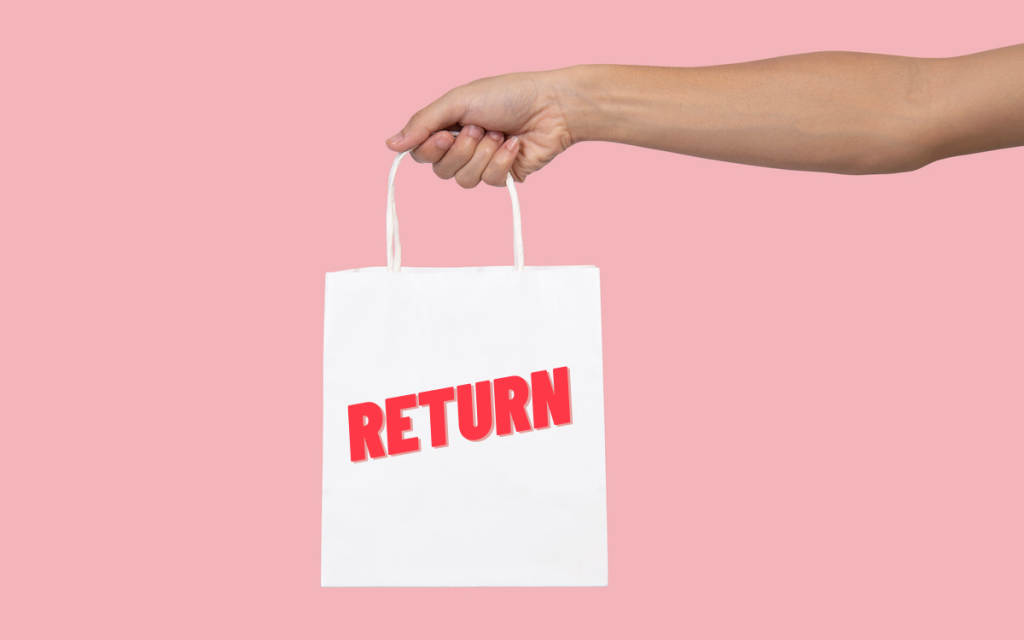 Evaluating and understanding the reason of returns is a good idea to create manage them. An eCommerce business must come up with a strategy to monitor returns and resolve issues that are cited as the cause. Resolving those issues will help in the better returns management. Some of the reasons could be quality issues, packaging problems, wrong product description, color differences, improper fitting dimensions, and poor customer support.
Cross-border e-commerce returns are primarily due to poor size and fit. In some cases, consumers even complain of poor communication on the part of the retailer to convey the exact tax rate and shipping costs during the checkout process. As a result, unhappy customers are more likely to return the shipment.
A business can prevent such returns by providing international consumers with an accurate detail of all duties and taxes related to the purchase. It might help to make this information clear so customers can pay at checkout and not feel duped later. An even better solution might be to enlist products in local currency for international customers, inclusive of local duties and taxes.
Related: 5 Key Points to Learn From eCommerce Product Returns.
How To Reduce eCommerce Returns.
When it becomes clear as to why returns are happening, it is easier to look for ways to mitigate them. Making sure that all products are listed as clear as possible with the accurate size, color, fit, and use will give customers a fair idea of what they are ordering.
Quality control is vital to ensuring better returns management and lower returns. Adding an extra checkpoint for all shipments scheduled for dispatch for any errors or damages is a step in the right direction. Investing in a new inventory management solution or outsourcing the task might be a good idea for order fulfillment with higher accuracy.
Representing the products with high resolution images and clear dimensions and description will give a better overview to customers and help lower high return rates. Additionally, inviting customer reviews is another way to manage eCommerce returns. Reviews are a potent tool to market products and can also help present your product accurately, coming directly from users. Potential customers can make an informed decision, depending on reviews in addition to other product details.
Having a clear return policy can help keep a business profitable. Moreover, automation might be a good way to manage returns in addition to providing excellent customer support. Returns management can become easier if you document all the processes and interact with shoppers to determine reasons for return.
Related: Reverse Logistics: More than Just Returns.
Why Choose Elite OPS Reverse Logistics in Utah and Atlanta, Georgia.
We go above and beyond to process returned products for clients. We pride ourselves for our reverse logistics services, including recall management, repair, testing and warranty, recall, re-classify, re-ship, inventory repair, and re-manufacturing. With experience to manage eCommerce returns, we work hard to identify areas of improvement by analyzing returns data. We follow industry best practices to reverse product life cycle.
Now you can minimize your return costs, reduce cycle times, increase liquidation values, reduce eCommerce returns, and improve transportation effectiveness by harnessing the power of our expert returns management. Fulfillment Center vs Warehouse – Which One is Right for Your eCommerce Store?
Elite OPS has been a leader in Shipping and Logistics for over 25 years. Contact Us to find out how we can help you Save Time and Money on Procurement as a Service, eCommerce Order Fulfillment, and Kitting and Assembly.