How To Offer Fast & Affordable Shipping for eCommerce.
Online shoppers are always looking for a convenience when shopping online. One of their main concerns is to get hassle-free delivery options for eCommerce shipping. No doubt, some consumers expect Amazon Prime-like delivery services, particularly the free 2-day shipping guarantee, but (sadly) not all online retailers offer that. Statistics show that many online shoppers are willing to abandon their cart if they don't get a guarantee of free or affordable 2-day shipping for eCommerce shopping.
The speed of delivery is another important consideration for 53% of consumers. If any eCommerce site fails to meet these expectations, they are at a risk of losing business. Sadly, not all eCommerce businesses seem to be offering the 2-day shipping guarantee. Some find it intimidating to compete with big retail houses. Apart from this, the high logistics cost, smaller volume, and other obstacles might make it appear more challenging for small eCommerce stores to be at the same playing field as giant retailers. However, even a small or startup online business can offer 2-day shipping for eCommerce orders.
How Does 2-Day Shipping Work?
After the order is placed, the customers expect the delivery in two days. During those two days, packages may change several hands in transit. A business may use air shipping or ground shipping, depending on the customer's location. For faraway destinations, a retailer chooses air cargo. Air transport is relatively more expensive than road transport, there is a guarantee of 2-day shipping.
A retailer may use ground shipping to transport packages within a shorter distance. It costs much less than air cargo. A merchant offering 2-day shipping via a ground network relies on fulfillment centers or warehouses at different locations.
Ground shipping can cut down cost of transport significantly, motivating customers who seek affordable shipping options for 2-day delivery for eCommerce orders.
Benefits of 2-Day Shipping
1. To Meet Customer Expectations
Today, consumers are unwilling to wait longer for order fulfillment. With a 2-day shipping guarantee, an eCommerce store can attract business. This will further help create a positive customer experience.
2. Significantly Reduce Cart Abandonment
True, there is no one factor that influences a shopper's decision to abandon a cart, but the most common reason is shipping cost and delayed delivery schedule. Your customers want an affordable and quick delivery. Unless they get the cheapest and fastest option, there is no way to keep them. the only way out is to offer a low cost expedited delivery option to attract shoppers, increase conversion rate, and grow business.
3. Encourage Repeat Purchases
It might be a good idea to promote shipping offers to get repeat customers. If you choose to offer 2-day shipping for eCommerce orders on your website, you can take a step to build customer loyalty. Besides, the control over customer's brand experience is in your hands when you choose to sell on your eCommerce website.
Related: Warehouse VS Fulfillment Center. Aren't They The Same?
Give them more shipping options for a better experience.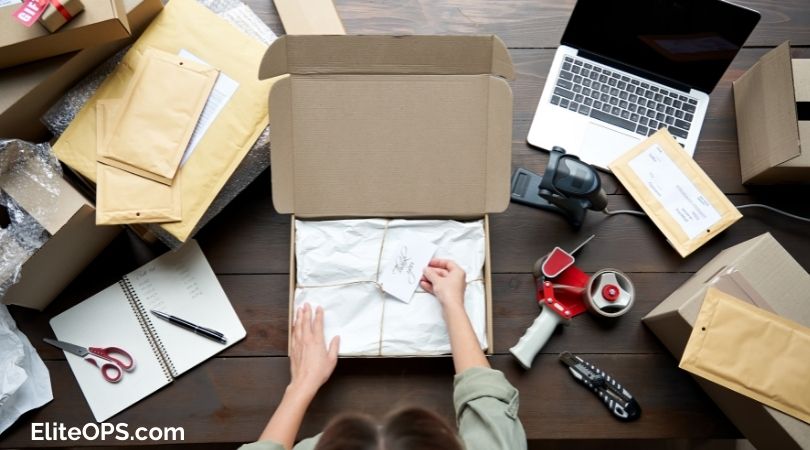 How To Control Cost of 2-Day Shipping
Prefer ground shipping to air cargo to keep cost down. Besides, choose urban fulfillment centers for shipping orders. That means keeping inventory in fulfillment centers at different locations and shipping the order directly from the place near customers.
Offer 2-day shipping to specific zip codes only. Choose a fulfillment center close to your customers for order shipment to keep the cost down and ensure the orders are delivered right in time.
Fulfill orders from different warehouses. In order to extend your brand appeal among a wider audience, look for more than one fulfillment center. This will ensure that you can cover customers located in different regions and significantly reduce the chances of cart abandonment.
Make frequent trips to the post office if you choose to handle order fulfillment in-house. It may require you to visit the local shipping carrier often. Else, you may choose FedEx 2-day shipping or UPS 2-day shipping for expedited shipping experience.
Outsource to a third-party logistics service provider for orders that require 1- or 2-day express shipping. If you partner with a 3PL, you will need to send inventory to their fulfillment center for timely order fulfillment. Besides, online merchants may harness the power of multiple fulfillment centers and experience the same order delivery speed as bigger retailers. The best thing about a 3PL fulfillment center is that they can pick, pack, and ship orders as soon as an order is placed on the online merchant's website.
2-day Shipping FAQs
Is 2-day shipping actually fulfilled in 2 days?
Well, at Amazon Prime, it means the item will be delivered in two days after it is shipped from a fulfillment center. On the other hand, in some cases, the term 2-day shipping of eCommerce orders means 2 business days.
It is in your best interests to review the shipping policy and understand their 2-day shipping policy in detail when you choose to work with a third-party logistics provider or an online marketplace.
What is the Amazon Prime Effect?
Consumers are no longer willing to wait for their delivery of their orders. They might expect the order delivery to be within 2 days of placing an order.
So individual brands are under immense pressure to meet customer expectations to reduce the risk of losing business.
Is there really a guarantee of 2-day shipping?
Well, there is no 100% guarantee as order shipment depends on a number of factors, including carrier, operation days, operation locations, and cutoff times. In some unfortunate circumstances, delays happen due to bad weather or theft or reasons beyond the shippers control.
Here, the services of a 3PL provider can come to your rescue with a guaranteed service for order fulfillment. You send it through your 3PL and they will handle delays, re-shipping and anything else that comes up.
How much does 2-day shipping cost?
There are several factors that influence the cost of 2-day shipping for eCommerce orders, including date and time of shipment, destination zip code, zip code of the source from where product will start, carrier used, dimensional weight and package, and type of products.
Some shipping carriers offer bulk discounts with high order volumes. That means 3PLs can easily share discounts with clients that might play a role in lowering two-day shipping costs.
Related: Should You Offer Free Shipping or Fast Shipping?
Is free 2-day shipping feasible?
Well, free shipping is a big attraction for online shoppers but it is not always possible for merchants to offer shipping without cost. but in order to attract consumers, you may test with a free 2-day shipping offer to a smaller subset of shoppers as a one-time offer. A minimum order threshold should help merchants make up for the shipping cost.
Best Option for 2-Day Shipping
True, order fulfillment can become complex for merchants that are busy with product procurement. Outsourcing to a 3PL like Elite OPS is the right way to fulfill orders and save time and stress while meeting (and exceeding) customer expectations.
Fulfillment by Amazon (FBA)
Merchants can become part of the Amazon Prime program for two-day order fulfillment. Amazon even gives customers an opportunity to upgrade to one-day order. It charges a small extra fee for this feature. Amazon is responsible for order fulfillment placed on its marketplace within its fulfillment centers. But there is a drawback in using FBA as sellers cannot highlight their brand. Amazon will steal the show in the eyes of shoppers.
Related: 3 Shipping Tips for Your New eCommerce Business.
Elite OPS Order Fulfillment and 2 Day Shipping
Merchants can leverage Elite OPS for eCommerce order fulfillment. This service can be used for orders placed on the merchant's website, besides third-party marketplaces as well as sales channels. Elite OPS offers both same-day fulfillment and 2-day shipping.
Related: 5 Ways that Elite OPS eCommerce Fulfillment Can Help You.
Why Choose Elite OPS for 2-Day Shipping for eCommerce Fulfillment
You don't have to be a multi-million dollar business to provide your customers with the best shipping experience. With Elite OPS as a partner, you can ensure affordable and fast shipping services to keep your customers happy. Elite OPS leads the industry in providing a 99.9% accuracy rate in same-day shipping for orders placed before the daily cutoff time. As leading operations management company, we excel in international shipping and fulfillment and provide the best end-to-end order fulfillment from our 2 strategically located order fulfillment facilities in Utah on the West Coast and Georgia on the East Coast.
Elite OPS has been a leader in Shipping and Logistics for over 25 years. Contact Us to find out how we can help you Save Time and Money on Procurement as a Service, eCommerce Order Fulfillment, and Kitting and Assembly.