4 Benefits of a Streamlined eCommerce Supply Chain.
There is more to an eCommerce supply chain than the shipment of products. In fact, it focuses on delivering a quality product along with a wow experience in order to reinforce the trust factor among customers and build a trusted brand. It involves a series of processes, from raw material production to manufacturing, warehousing, and inventory management. The final step in the supply chain process is order fulfillment. An optimized supply chain lays a strong foothold of trust and helps improve productivity while reducing cost, which ultimately impacts profit margin and strengthens customer satisfaction.
How Streamlining Supply Chain Benefits eCommerce.
1. Faster Shipping
With a streamlined supply chain, any delays can be identified in time and corrected efficiently. You can work on eliminating the roadblocks and improving shipping. The location of the manufacturer, warehouse, and customers is an important factor that determines shipping time. In addition, the type of transportation plays an important role too. Shipping is critical to supply chain, which plays an important role in improving customer satisfaction and brand reputation and reducing cart abandonment. Happy customers and a strong brand reputation combine to give you an edge over the competition.
Related: How to Offer Fast and Affordable Shipping for eCommerce.
2. Better Shipping Rates
The cost of shipping can impact the whole of your supply chain. In order to optimize your supply chain, take steps to reduce shipping cost. This may include selecting a cost-effective mode of transportation, which is equally efficient too. For example, freight shipping is a game changer. You can consolidate your cargo with that of other shippers meant to be shipped in the same direction. This is a cost-saving way to reduce shipping cost while enjoying the benefit of fast delivery.
Related: Shipping 101 for Your eCommerce Business.
3. Accurate Inventory Management
There are numerous eCommerce inventory challenges. When you choose to optimize inventory levels, it is easier to forecast future demand, which helps you avoid unnecessary stockouts and tackle inventory challenges. A regular inventory audit helps analyze historical data and make future projections easier.
Related: Techniques for Better Inventory Management.
4. Better Customer Experiences
A streamlined supply chain gives you a strong foothold in the eCommerce world. With a streamlined system, you can eliminate bottlenecks in delivery to reduce the time for order fulfillment, shipping cost, and risk of human error.
With a stronger, streamlined supply chain allows you to focus your efforts on improving customer communication. Here's an opportunity to let customers track orders in real-time and get constant updates on their order status.
Related: 7 Essentials of Great Customer Service.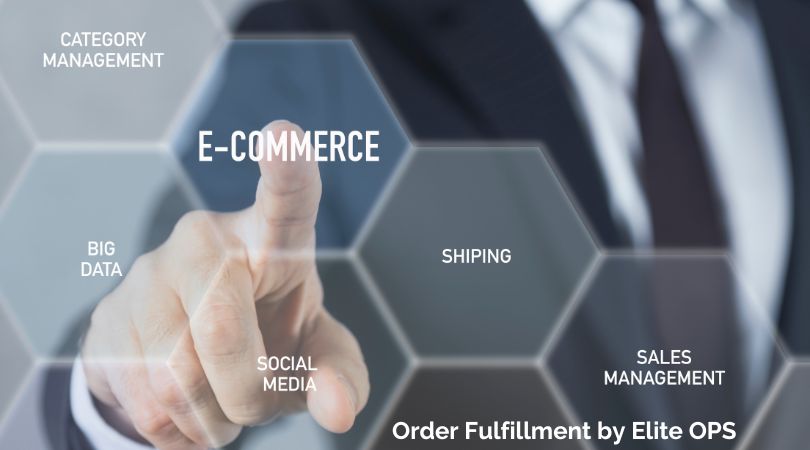 How To Streamline Supply Chain.
Multiple Fulfillment Centers
Expand customer reach by choosing multiple warehousing, storage, and fulfillment locations and thus reduce delivery time and benefit from cost saving too.
Real-time Inventory Management
When you invest in an inventory management system, you can get access to data and analytics to improve supply chain and prevent stockouts. Additionally, you can optimize freight shipping and speed up delivery time.
Warehouse Optimization
By investing in a warehouse management system, you can manage warehouse staff, monitor inventory and stock, and improve inventory storage. With an inventory management solution, you can improve productivity, manage inventory, and fulfill orders hassle free.
Partner with a 3PL
It can be overwhelming to manage an eCommerce supply chain. Thus partnering with a third party logistics company is a step in the right direction. Look for a 3PL that has supply chain expertise.
Elite OPS is your partner in growth. Let us help you overcome supply chain challenges hassle free. Get real-time insight into orders, shipping cost, and inventory stock with us. Elite OPS prides itself on being your order logistics warehouse of choice that specializes in e-commerce supply chain and fulfillment.
Elite OPS has been a leader in Shipping and Logistics for over 25 years. Contact Us to find out how we can help you Save Time and Money on Procurement as a Service, eCommerce Order Fulfillment, and Kitting and Assembly.