The Cost of Inefficient Order Fulfillment.
Many traditional third-party fulfillment providers don't offer technology, infrastructure, expertise, and transparency for building an on-demand logistics strategy. It can significantly hinder business growth. Some 3PLs do not hesitate to overcharge businesses with billing errors. There are a few 3PLs that have adopted a complex model, which adds to the complexity of forecasting expenses. There are a few order fulfillment providers that follow a transparent pricing model so the merchant knows exactly what they will be charged for.
Inefficiencies and roadblocks
There is a huge risk from manual, outdated processes that might affect the efficiency of shipping. You could end up with shipping mistakes.
Lack of integrated systems
Integration is one of the keys to success in the world of business. Any lack of integration could put you at the back step, slowing down business processes. There is a lack of automation s processes are not integrated. Further, there is lack of transparency and trust among customers.
No bulk discounts
Unless you're shipping tons of packages per year, major shipping carriers might not be an option. On the other hand, if you're using the services of only one carrier, it may not work in your favor as you are dependent only on one and missing out on a range of services that others offer. Additionally, if you are shipping low volume as a startup, you are not immune from the commercial cost of packing.
Single location shipping
You are at a disadvantage if shipping only from one location. In that case, you might end up paying more postage for order fulfillment across different shipping zones.
Post office Trips
Trips to the post office do not come cheap. It is certainly time-consuming and expensive to making weekly trips to the PO.
High overheads
If you decide to invest in the infrastructure for order fulfillment, it can be quite expensive. A major part of your money goes to forklifts, warehouse space, warehouse management, workers comp, recruiting and labor, liability insurance, and cost of other logistics. Not only this, it is time consuming as well. Keeping your customers waiting can cost your business dear and jeopardize future business. Shoppers are more likely to abandon orders for the speed of delivery and cost o shipping.
Amazon has set high standards in shipping. Shoppers are unwilling to wait for a long time. They are always looking for Amazon-like services. If delivery times fail to meet expectations, a shopper is unlikely to become a repeat customer.
Related: 4 Benefits of a Streamlined eCommerce Supply Chain.
Focusing only on fulfillment
No doubt, fulfillment is critically important to a business success. But doing it yourself is not the best way forward. In that case, you will be focused only on fulfillment. As a result, you risk losing several business opportunities of growing customer base. You could also be time starved to focus on new product development. On the other hand, outsourcing operational tasks to an expert order fulfillment provider can save you time, money, and resources that you can spend on developing core competencies. Your high dollar tasks can benefit significantly when you choose to outsource fulfillment to a 3PL. Additionally, this could help you easily scale your business in the long run.
An experienced 3PL leverages their experience and resources in understanding your business and its order fulfillment needs. They can improve shipping times by setting up offices where your customers are.
Related: How Can a 3PL Cut Operational Costs for eCommerce Businesses?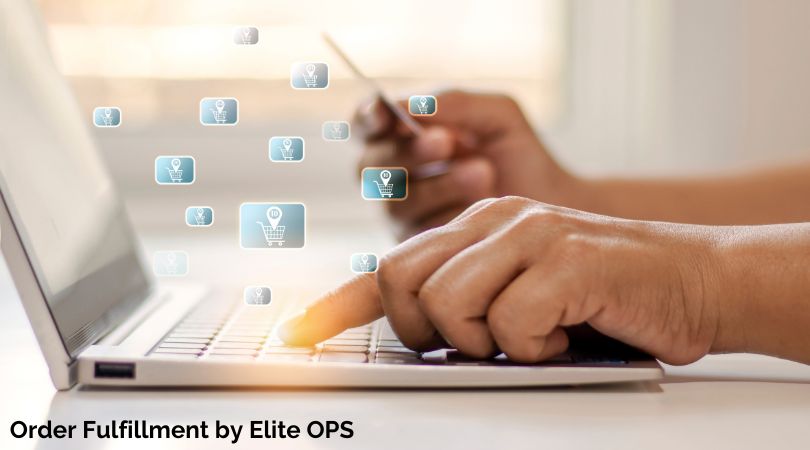 eCommerce Order Fulfillment FAQs
1. What is 3PL fulfillment?
The term 3PL stands for outsourcing of fulfillment logistics to a third party. The 3PL is responsible for pick, pack, and shipping, apart from inventory and returns management. If you are looking to outsource order fulfillment, working with a 3PL is a step in the right direction that can automate shipping and major time-consuming processes.
2. What are eCommerce fulfillment costs?
The cost is all-inclusive of the charges of receiving and storing inventory, pick, pack, and shipping. It may also include kitting and returns management.
3. Define a fulfillment system
This includes the process of receiving the order and then processing it. Then begins the task of pick, pack, and shipping. An eCommerce store can take care of order fulfillment in-house or outsource it to a 3PL. The advantage of having a 3PL is automation of the entire process with the help of proprietary fulfillment software. When things are taken care of in time, you can build better customer loyalty and stay competitive.
4. What does 'in fulfillment' refer to in an order?
It means that the order is in processing stage before being shipped.
5. What is the cost of fulfillment?
There is no one-size-fits-all price in terms of order fulfillment. Every 3PL estimates the price of fulfillment differently than others. While a fulfillment company may charge one monthly price, others may require payment for a per-order basis.
6. How to find the right fulfillment partner?
Choose a 3PL that can provide you the benefit of shipping in different locations worldwide. You don't want to be limited to one location.
7. How much does a fulfillment center cost?
A fulfillment center may charge you on a per unit or hourly basis.
An external fulfillment service partner like Elite OPS is responsible for picking, packing, and shipping orders. Consider such a strategy to reduce shipping and operational costs.
Elite OPS has been a leader in Shipping and Logistics for over 25 years. Contact Us to find out how we can help you Save Time and Money on Procurement as a Service, eCommerce Order Fulfillment, and Kitting and Assembly.