Order Fulfillment and 3PL Pricing Models Explained.
When looking for a fulfillment partner, you want to dig into their 3PL pricing models. However, the fact is that pricing models vary from one fulfilment service to another. There is no one fulfillment pricing model that can fit in all eCommerce businesses.
How To Choose the Right Order Fulfillment Service
Choosing the right 3PL is a tough task, especially with a number of service providers out there. Your goal is to look for an order fulfillment provider that can seamlessly handle your inventory, so you can ensure a positive experience for customers. The ultimate goal is undoubtedly business growth.
When doing research, you may want to ask the following questions to your potential third-party fulfillment partner.
What makes you different from a pick-and-pack 3PL?
What eCommerce integrations do you support?
What is the location of your fulfillment centers?
Is there a two-day shipping service available?
How do you ensure best-in-class experience for customers?
Fulfillment Costs Explained
You want to find a fulfillment partner that can efficiently handle your order fulfillment in the best possible way. Your goal is faster fulfillment of your orders while keeping cost low so you have a dedicated stream of happy customers. Luckily, there are ways to reduce cost and simultaneously deliver a great customer experience.
Order fulfillment cost includes total expenditure for receiving and storing inventory, processing, pick-pack, and shipping of orders.
Define a 3PL
A third-party logistics provider is one who takes care of order fulfillment on behalf of merchants. Their responsibilities include everything about fulfillment, from warehousing to inventory, shipping, and fulfillment, which can be otherwise costly and time-consuming to manage in house. When you partner with a 3PL, you can save on fulfillment cost and time, so you can focus on core business, that is, product development and business growth.
But 3PL pricing models vary. So you want to find one that serves your exact business goals.
Calculating fulfillment cost
The fulfillment cost depends on the order fulfillment provider and distribution center and their pricing model. Order fulfillment is not limited to pick and pack but it encompasses complete fulfillment of the order.
Related: Is it Time to Reevaluate Your eCommerce Fulfillment?
Here's how to calculate fulfillment cost:
Warehouse receiving
This includes hourly labor cost involved in accepting and storage of new inventory. Before a 3PL processes and fulfills orders from your eCommerce store, the first requirement is to receive the inventory. The pricing model for each 3PL varies and may depend on analyzing cost per-unit or per-pallet. Some might offer flat rate while others prefer an hourly rate.
Inventory management
The monthly cost for inventory storage and management, including the number of shelves, bins, and pallets. A 3PL fulfillment provider charges you for providing storage space. The warehouse fees may include per unit storage or per-SKU. It may also be decided on the basis of a fixed fee for each shelf, bin, or pallet.
Warehouse picking and packing
The cost of picking and packing items. The amount takes into consideration the number of products being picked. Some 3PL pricing models include pick and pack pricing. The fulfillment process starts as soon as a customer places an order. The fulfillment service provider picks each item from its designated storage location. They may charge on the basis of per-pick.
Standard or custom packaging
The cost depends on the type of packaging used, that is, standard or custom. You may prefer standard packaging or customized branded one. The packaging is crucial to your business as it is the first impression of your brand on a customer. Some providers charge for packing materials while others include them in their fulfillment services.
Kitting
Some 3PLs may offer an additional service to pre-assemble separate pieces or arrange a package in a specific way. Kitting is a term used to describe an arrangement in which similar items are assembled and packed together as a bundle for shipping. The kitting service is specific to each client. Thus kitting fees might vary.
Returns management
This involves the cost of restocking or disposal of returns.
Automated shipping
There are many factors involved in the shipping cost, including weight, destination, dimensions, shipping speed, and carrier used, among others. Fulfillment software can make the task of order tracking easier. Some automation software divide fulfillment cost by activity. That gives you an average storage/fulfillment cost for each unit and order, respectively. You may also get a clear picture of customer spending by shipping or average shipping cost for each method.
A deeper insight into order fulfillment performance gives you a platform to optimize cost.
Related: How Can a 3PL Cut Operational Costs for eCommerce Businesses?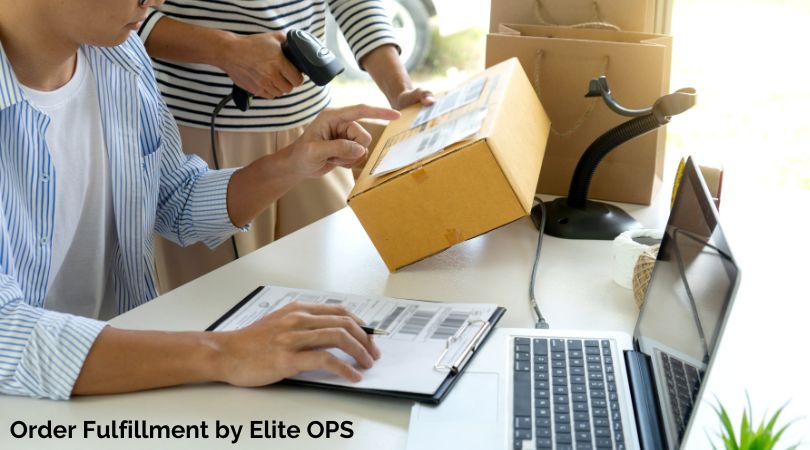 3PL pricing models
When it comes to assessing a 3PL based on their pricing models, you must take value-added services into consideration. This includes their customer service, geographical footprint, fulfillment technology, analytics reporting, inventory management, customization, and international fulfillment capabilities.
It might hurt your business interest in the long run if you weigh 3PL only on the basis of pricing. It's not always best to hunt for the cheapest pricing model. Remember, hidden costs could add up quickly.
Total fulfillment cost
This pricing model includes charges for receiving, inventory storage, and shipping. The model offers standard picking and packaging at no additional cost. This pricing structure is simple and ensures that there are no hidden extras or add-on charges during fulfillment.
Fulfillment by Amazon
Amazon has carved a niche for itself with its unique fulfillment service for items sold via its eCommerce marketplace. It uses a unique pricing model to fulfil orders in which it offers discounted fulfillment cost as it receives a cut on every sale. Also known as seller fee.
One disadvantage of this type of fulfillment is that all packages are sent via Amazon boxes. That means they cannot highlight their own brand. As a result, the customer is more likely to remember Amazon for the experience and not the merchant.
Besides, there is extra long-term storage cost for items that do not sell within a specific period.
Pick and pack
The pick and pack fee includes charges for every touch point in a fulfillment lifecycle. If several items are shipped in one order, the cost of fulfilment can quickly shoot.
Related: 4 Benefits of a Streamlined eCommerce Supply Chain.
Bottom Line
Look for a fulfillment partner that offers transparency in their 3PL pricing model, without any hidden extras. A professional 3PL offers a pricing model that truly reflects total fulfillment cost for direct-to-consumer fulfillment. This gives the eCommerce business an accurate idea of the exact cost to them.
An external fulfillment service partner like Elite OPS is responsible for picking, packing, and shipping orders. Consider such a strategy to reduce shipping and operational costs.
Elite OPS has been a leader in Shipping and Logistics for over 25 years. Contact Us to find out how we can help you Save Time and Money on Procurement as a Service, eCommerce Order Fulfillment, and Kitting and Assembly.