Omnichannel Fulfillment Guide for eCommerce.
Consumers expect a seamless brand experience all through their purchase journey, from product search to purchase and customer support after purchase. When efficiency and profitability are crucial to a brand's success, omnichannel fulfillment becomes a necessity for business growth.
This omnichannel fulfillment guide explains the process of order picking, packing, and shipping and streamlining multiple channels into one. This includes sale of orders across multiple channels, including online marketplace and stores. An omnichannel fulfillment strategy is based on inventory allocation for different stores that ensures there is no over or under accounting of products. The goal is to check overselling and overstocking in warehouses or fulfillment centers.
When brands do not want to rely on one channel, they can explore omnichannel for it's many benefits.
1. Higher order efficiency
When multiple channels are combined into a single process, the result is higher efficiency and accuracy in the fulfillment of orders. Omnichannel also ensures a seamless shipping system.
2. Happy customers
A brand has a better opportunity at establishing its reputation by ensuring quick delivery of orders. When consumers get the best service without spending a lot, there is no reason they won't come back.
Related: Consumer Psychology Can Help Increase eCommerce Sales.
3. More accurate reporting
With a third party logistics provider responsible for overseeing your channels, you can get access to instant reporting and figure out the most important channels.
4. Brand image
Customers want to have access to products wherever they are. Additionally, they want the option of home delivery, in-store pickups, or real-world store browsing. But consistency across all channels is a key factor to reinforce your brand image.
Related: OmniChannel Retail to Boost Sales During the COVID-19 Pandemic.
What are the Challenges?
There is no denying the fact that a business faces several challenges with omnichannel. The omnichannel fulfillment guide lists different challenges below:
Inventory management challenges across channels
It might be challenging for a business to count all of its products listed on multiple channels. Often times, there could be a mistake of double counting SKUs when same products are listed under different stores.
Here, the focus should be to factor in different factors in order to maintain inventory and stock levels across multiple channels. Some of these factors include return frequencies, purchase behavior, turnover rates, demand, and shipping speed. This ensures that the listings on different channels match with your actual inventory in the warehouse. The goal is to ensure that there is no duplication or over-counting of inventory levels. Real-time data can help you get an accurate picture of inventory counts on stores.
Maintenance of fulfillment infrastructure
You need necessary infrastructure, team, and equipment to launch an omnichannel strategy. But since that could be quite expensive, partnering with a professional order fulfillment company is the best solution.
A business should focus on synchronization for an effective omnichannel strategy to fulfill the expectations of each channel.
Related: The 4 Things You Need to Do To Get eCommerce Customers.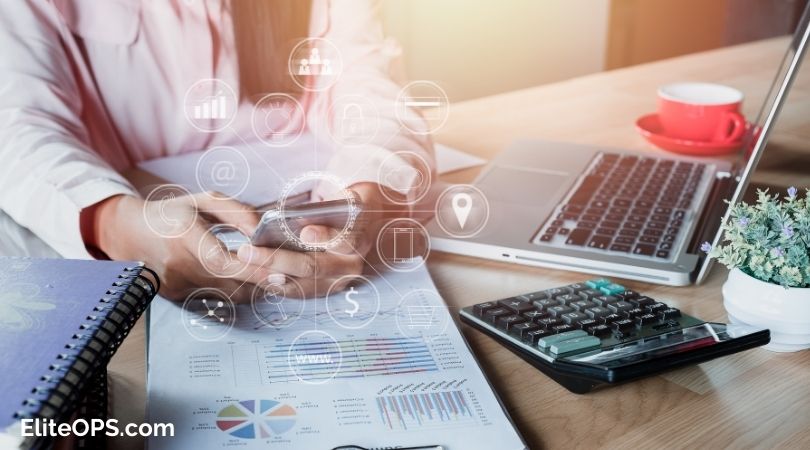 Omnichannel Fulfillment Strategies
The needs of each brand are not the same, so no single strategy or solution works for omnichannel fulfillment. Here are a few strategies to help you get started:
1. Outsource fulfillment to a single 3PL
Look for reliable third-party logistics providers that cater to all of your omnichannel fulfillment needs. This makes it easier to expand into new sales channels and manage orders as well as inventory from a single dashboard.
2. Opt for In-house fulfillment
You may choose to keep fulfillment in-house to keep products with you. But that requires making trips to the post office daily. Or you could lease a warehouse for order fulfillment. However, you may find it tough to store inventory in this model. This could mean you may never fully grow into your space. Additionally, there is a risk of getting locked into long-term lease.
3. Use different strategies across channels
Having a single strategy for each channel might be a mistake that you want to avoid. In fact, it should help to have different fulfillment methods for multichannel distribution.
4. Get the right technology
Don't ignore the role of technology when it comes to omnichannel fulfillment. A more cohesive fulfillment strategy focuses on technological integrations that make the entire process seamless and hassle-free. Successfully businesses have B2B shipping and integrations with updated order and inventory management tools.
A tech-driven fulfillment partner can be your best guide in delivering customer expectations across multiple channels. A professional fulfillment partner has a cohesive strategy to integrate logistics operations with top-grade inventory management tools, making it easier to manage orders, products and shipments across channels.
Elite OPS has been a leader in Shipping and Logistics for over 25 years. Contact Us to find out how we can help you Save Time and Money on Procurement as a Service, eCommerce Order Fulfillment, and Kitting and Assembly.