eCommerce Store Management Guide.
eCommerce store management is the need of the hour for online stores. This is essential to improving the site's user experience. In simple words, eCommerce is a business model based on selling goods in the Internet marketplace. Over the last few years, eCommerce has undergone a transformation with better features, including advanced UIs, improved payment options, speedy shipping, and automated processing.
Here's a detailed commerce store management guide to help you understand things better.
eCommerce Business Planning
An expert group is the lifeline of a successful eCommerce site and keep it running without glitches. They keep it updated all the time with the latest features and security settings. Besides, there are a few factors to keep an online business growing. From bug elimination to securing the online store, programming of new features, integration of Google analytics, social media marketing, product listing, SEO upgrades, and ad promotions, among others.
Since an eCommerce store is customer-centric, a deep understanding of customer requirements is crucial to the success of business. Customers have high expectations and your eCommerce store management should be dedicated to fulfilling their requirements.
Related: 3 Ways to Better eCommerce Fulfillment in 2022.
Speed
Customers expect your eCommerce store to load in an instant. They are always in a hurry and do not have time to wait for a page to load. A website that remains up and running and loads quickly sends out the message clearly that it cares for its audience. When customers feel cared for, they are more likely to trust and do business with you.
Design
When a visitor hops on to your website, you want to wow them with the aesthetics. Design matters and states clearly that there's someone seriously working behind the screen. Every single element on the website matters. An experienced website designer can help you come up with a site that impresses in an instant. But if you have budgetary constraints, you can always trust complete eCommerce solutions online so you can focus on core competency.
Product Selection
Product choice is integral to the success of an eCommerce store. It can have a direct impact on conversions by making the process of checkout simpler. Your product choice should be deliberately considered. Contrarily, if you attempt to source tons of stock, it may result in order deferrals to the disappointment of clients. You could try leaving it to clients to pick by brand or classification. Add to the client's shopping experience by design the search bar strategically.
Related: Warehouse VS Fulfillment Center. Aren't They The Same?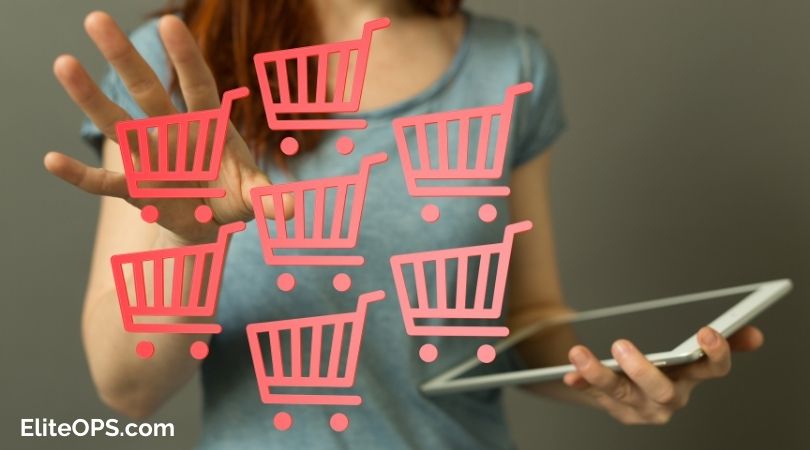 Starting an Online Business: Your Best eCommerce Store Management Guide
It begins with choosing the niche and focusing on ranking your content for related keywords. The second step is to create your online store with a focus on usability, value, support, and highlights. Once the online store is up there, now being the time to start contemplating different channels that have a significant presence of your crowd. Focus on providing an Omnichannel experience for better brand presence and perceivability. All in all, the ultimate focus is on improving user experience.
What type of business model works best for your business?
1. Business to Business
When product trading happens between two businesses, it is categorized as B2B model.
2. Business to Consumer
As the name suggests, B2C model is based on the exchange of products from business to singular buyers. For example, Amazon and PayPal.
3. Consumer to Business
When a buyer offers products or services to a business, it is known as C2B. different types of service providers on the web, including social media administrations, software engineers, content creators.
4. Consumer to Consumer
A third-party is involved in this type of business model. When a buyer offers a product to another shopper, it is classified as C2C.
Set up your image and business
Once you have finalized the business model, the next step is to target bunch for your eCommerce store. Assess everything cautiously before putting resources into the product. Cost is an important consideration. What are the most pressing client issues? An analysis of this will help you understand how to effectively set up your estimating model. Too low or too high cost might affect the client's response to your products.
Marketing your products
One of the most important consideration in your eCommerce store management is marketing. Harness the power of investigation tools to check and enhance the progression of your business. are there deals that aren't expanding despite your efforts to direct people to the store? In that case, you may want to investigate your product listings. It is high time you started to improve each page.
Shift the focus to online promotion. But if you don't have the resources, you can still build exposure. You may choose to utilize sponsored content, pay-per-click promotions, or online networking. Another important consideration is to observe your marketing campaigns closely. The goal is to identify the channels that are directing people to your eCommerce store.
But if marketing is not your thing, you can always trust professionals to do that for you.
Related: 5 Ways that Elite OPS eCommerce Fulfillment Can Help You.
How Can Elite OPS Help you with your eCommerce Store?
Dependable, organized, and cost-effective online store management is a specialty at Elite OPS. Leverage our expertise to manage your eCommerce business and take it to new heights. We offer the best turnkey storage solutions and specialize in online order fulfillment, with 99% order accuracy.
You can depend on our complete end-to-end supply chain management and cutting-edge fulfillment warehouse management system. Our highly-trained team of professionals are dedicated to customer service and provide the best focused logistics services to meet or exceed customer expectations. Connect with us today for a better eCommerce store management.
Elite OPS has been a leader in Shipping and Logistics for over 25 years. Contact Us to find out how we can help you Save Time and Money on Procurement as a Service, eCommerce Order Fulfillment, and Kitting and Assembly.