What is Order Fulfillment & The Best Fulfillment Strategies for Success.
Order fulfillment explains how customers get the product they paid for. Fulfillment is crucial to the success of a business. A poorly planned fulfillment strategy could translate into business losses. A shopper has two major concerns while shopping online – cost and delivery time. With a robust order fulfillment process, a business can exceed or meet those expectations. So the prime objective for an online brand is to spend less time on picking and packing orders. On top of that, they must have a flawless policy to deal with delays.
Order fulfillment is a comprehensive process that involves receiving, picking and packing, and shipping orders. To succeed in this age of cut-throat competition, an eCommerce brand must do everything to master order fulfillment. This is not possible without having a refined strategy and decades of experience.
Lower Costs
An external fulfillment service partner is responsible for picking, packing, and shipping orders. Such a strategy aims to reduce shipping and operational costs.
Improved Customer Service
Having an order fulfillment partner is one of the best ways to improve customer experience. When customers receive orders on time, they are more likely to be satisfied with the service and come back for more.
Increased Efficiency
A business can focus more on growth once they have a streamlined process in place for order fulfillment. An online business that dreams of success should ensure timely fulfillment of orders within a business day. Simultaneously, it is equally important to communicate the order tracking number to customers so they can track their shipment hassle free and receive the order as per schedule.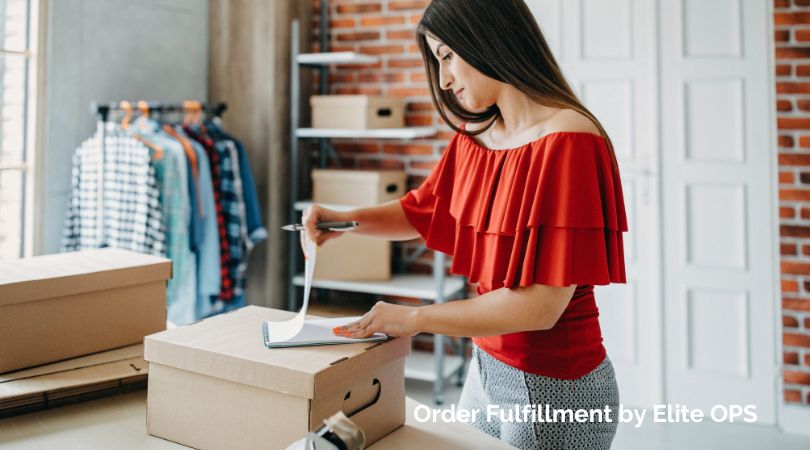 Here's How to Streamline and Fulfill Orders Faster in Order to Improve Order Fulfillment.
1. Optimize inventory management
The first task is to localize inventory so the orders are fulfilled hassle free and on time. You can optimize inventory management by localizing inventory.
Related: Techniques for Better Inventory Management.
2. Plan an order picking strategy
You do not want to disappoint customers by shipping an incorrect item. This amounts to loss of reputation, time, and business. No customer wants to do business with a brand that makes such a mistake. With a foolproof order picking strategy, you can minimize this risk and ensure that the right products are only shipped to the customer safely. When a shipment arrives safely and packed well to a customer, it leaves them with a great experience.
3. Focus on better ties with shippers
Get up on the priority list of shippers by building better relationships with them. By doing so, you can unlock preferential pricing as well and ensure your shipment gets priority. There are ways to build a relationship with shippers. Warning your carrier in advance about a potential surge in orders will help them stay prepared and ensure timely fulfillment.
Related: How To Offer Fast & Affordable Shipping for eCommerce.
4. Welcome technology to drive decisions
In this age of digital transformation, you cannot survive unless you can make the best use of data. Automation seems to be a great help now that its role in various processes is being revealed.
Supply chain management that uses artificial intelligence can improve logistics costs significantly. It also helps an eCommerce store to identify inventory turnover rate and improve demand forecasting. What's more, with automation, the risk of human error is reduced significantly. Human error can cost a business dear. It can ruin business ties and customer experience.
5. Be transparent with customers
Customers love transparent deals. So eCommerce stores should focus on practicing transparency in their order fulfillment. Customers are eager to learn about the anticipated delivery times. If an order fails to reach as per the expected delivery, that customer is more likely to cancel it or not shop with the business again.
So transparency in delivery promises is important. In emergency situations when an order cannot be fulfilled as scheduled, immediately informing the customer of the delay along with a small explanation about the cause of delay will help minimize the impact on their experience. Waste no time in apologizing for the delay along with a promise to expedite the shipment as soon as the problem is solved.
Related: Should You Offer Free Shipping or Fast Shipping?
Elite OPS has been a leader in Shipping and Logistics for over 25 years. Contact Us to find out how we can help you Save Time and Money on Procurement as a Service, eCommerce Order Fulfillment, and Kitting and Assembly.