Challenges of Order Fulfillment.
There are numerous challenges that come in the way of order fulfillment. Unless resolved in time, these challenges pose a serious threat to the customer-business relationship. Let's explore the challenges below.
Inaccuracies in order information
One of the biggest challenges facing businesses today is the pressure to fulfill orders faster and more cost-effectively. Unless you have accurate order information, you cannot deliver on time, thus resulting in a bad experience for customers and potentially a lost sale.
Supply chain problems
There are numerous challenges at the global supply chain front, thanks to political instability and labor shortages. This is more of a challenge with rising customer expectations due to the order fulfillment standards set by eCommerce giants like Amazon.
An off-balance supply chain can become the biggest hurdle in delivering on that promise. It might help to localize inventory to improve delivery time. You should never miss to apologize and be transparent about any delays in fulfillment.
Related: Products Out of Stock? How to Solve Your Inventory Problem.
Demand fluctuations
There is a high seasonal demand of certain products surge at specific points in time. If you are already faced with labor shortages, it is tough to ensure order fulfillment on time.
Here, it might help to outsource fulfillment to a 3PL so that there is minimal impact of demand fluctuations on fulfillment.
International shipping
As an eCommerce seller, you are expected to ensure timely delivery of items, irrespective of your location. Any shipping problems or fulfillment delays might impact customer expectations. It is here that localizing the inventory might be a good choice so that no shipping problems get in the way of customer enjoyment. By partnering with an international warehouse located close to customers, you can remove hurdles in timely order fulfillment for customers beyond borders.
Related: How To Offer Fast & Affordable Shipping for eCommerce.
Tips To Choose the Right Order Fulfillment Service
Experience
Experience matters. You want to trust a third-party fulfillment provider with experience working with eCommerce businesses.
Technology
This is a tech-savvy world, and you don't want to partner with a fulfillment service that cannot scale as your order volume grows. The leading order fulfillment companies have technology access to get relevant data beforehand to make demand predictions.
Location
Look for warehousing order fulfillment companies that have multiple locations. This gives you an upper hand over the competition and you can automatically ensure timely order fulfillment from the warehouse closest to your customer.
Cost
Of course, cost is a factor you cannot ignore. You don't want to partner with a fulfillment services provider that blows a big hole in your pocket, leaving you with little to no profit on outsourced orders. Remember to consider all cost determinants when considering a third-party fulfillment partner. This includes the cost of storage, pick and pack, and shipping charges.
Speed
Customers are pampered with same-day delivery or next-day delivery by big wigs like Amazon. You don't want to create an unpleasant customer experience by delaying fulfillment. When time is critical, make providers responsible for timely fulfillment according to a schedule. Don't forget to ask for cut off for delivery next day.
Related: Should You Offer Free Shipping or Fast Shipping?
Ethics
Ensure that your manufacturing partner complies with ethical and fair labor practices and is committed to worker health and safety measures.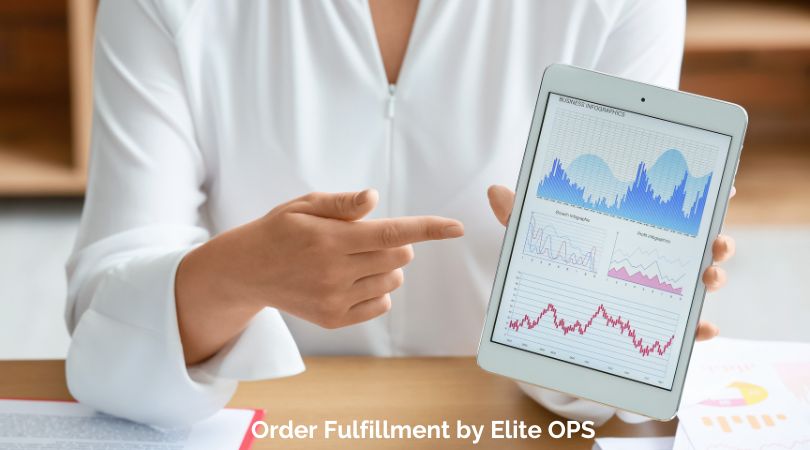 Refine Order Fulfillment
In order to keep customers happy and coming back for more, you want to refine your order fulfillment process and eliminate challenges that have the potential to become hurdles in your commitment to customer service. Robust fulfillment that can eliminate delays and fulfill orders on time is the need of the hour.
Elite OPS' Order Fulfillment Services
Let Elite OPS be your partner for order fulfillment for the holidays. We understand that holiday rush could be overwhelming for an eCommerce store. But it is an equally great opportunity to attract a large share of the audience. Great customer experience can do wonders to your business. Order fulfillment in time is one of the best ways to reinforce your commitment to customer service.
Elite OPS can fulfill your orders, store and manage your inventory, and do product shipping and drop shipping. You can choose our eCommerce order fulfillment services in Atlanta, GA and, Salt Lake, Utah to store your inventory, monitor your company's orders, and ensure order fulfillment and timely shipping from 2 different locations.
Elite OPS has been a leader in Shipping and Logistics for over 25 years. Contact Us to find out how we can help you Save Time and Money on Procurement as a Service, eCommerce Order Fulfillment, and Kitting and Assembly.