Buku – The Elite OPS Partner on Shopify
With a mission to equip online retailers with the most powerful tools and insights into doing business online, Elite OPS has joined hands with BUKU. BUKU's IntelliRate Shopify app enables online sellers to focus on their core competencies without worrying about shipping and order fulfillment on the Shopify platform. The IntelliRate app by BUKU is designed to boost shipping customer experience while increasing customer satisfaction at the same time. The AI-driven app is designed to integrate with online sellers using the Shopify platform and help them efficiently manage their online store.
Elite OPS aims to equip its clients with the best tools so they can offer customers better shipping options. The app features options to display multiple shipping options, delivery dates, and prices to reduce chances of cart abandonment and keep customers coming for more. BUKU is easy to integrate with Elite OPS and enables us to fulfill customer orders more efficiently. What's more, online shoppers can easily customize their order shipping details to increase fulfillment efficiency.
Related: 5 Tips to Minimize Order Fulfillment Errors.
Powered by AI
Elite OPS looked to BUKU partly because it was driven by artificial intelligence (AI), which helps sellers optimize their shipping strategy with planning and order margin visibility. This helps Elite OPS ensure a hassle-free customer experience during the online checkout and shipping process.
Additionally, it enables online sellers to better evaluate shipping costs during checkout. With a greater focus on ensuring speed, accuracy, visibility, and affordability, the app becomes a powerful tool in the hands of online merchants to deliver a positive shipping experience to end consumers and reduce cart abandonment.
Related: Provide Better Shipping Options at Checkout to Increase eCommerce Conversions.
Fuss-Free Fulfillment
The comprehensive AI-driven SAAS platform integrates with fulfillment services, such as Elite OPS, for better order fulfillment based on buyers' shipping selection in the cart. There is an option for international tax filling service for EU IOSS, which frees the seller's team of the responsibility.
Related: 3 Ways to Better eCommerce Fulfillment.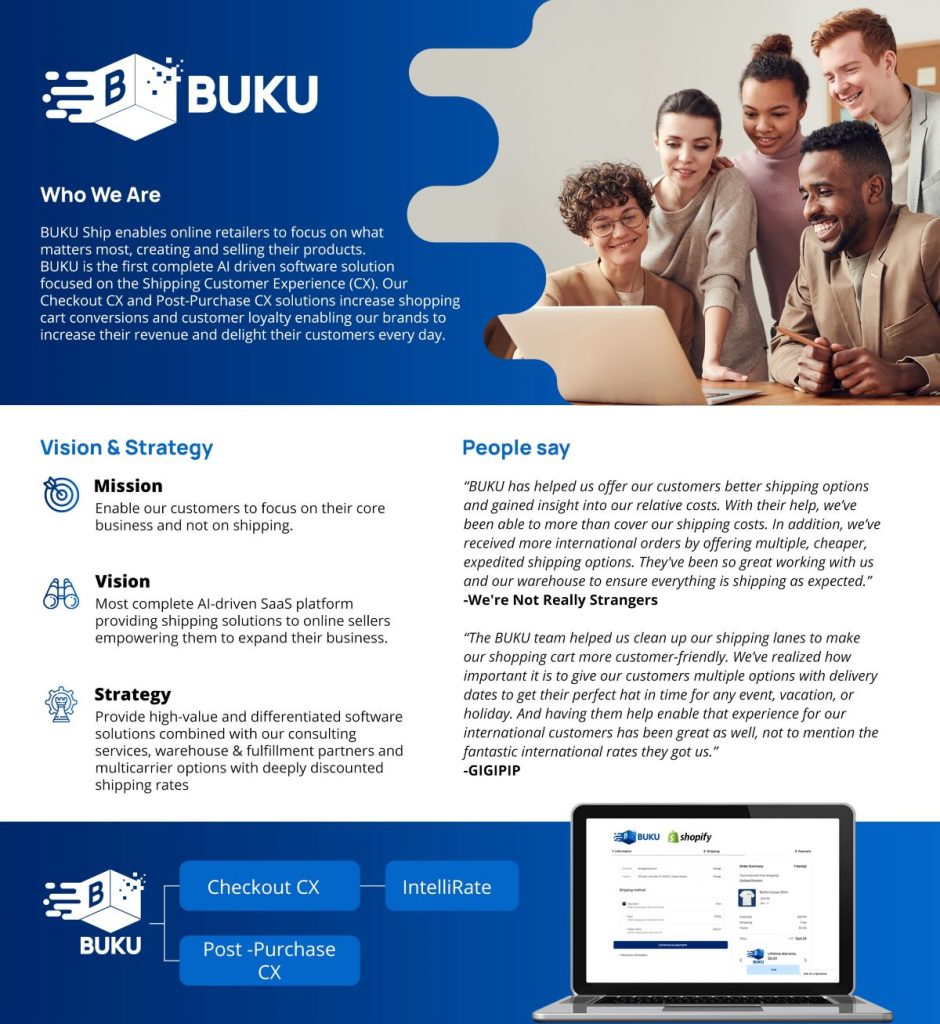 International Shipping, Taxes, and Duties Simplified
Elite OPS is better option for international shipping, thanks to its partnership with BUKU, which makes tax calculation easier for online merchants who can calculate accurate international taxes. All in all, online merchants get multiple carrier options to choose from.
By integrating BUKU, Elite OPS displays accurate taxes & duties at checkout, which leaves customers with no last-minute surprises. What's more, online sellers can automate international tax filing with BUKU.
Related: How to Offer Fast and Affordable Shipping for eCommerce.
Strategic Shipping
Elite OPS is the perfect solution for order fulfillment and shipping for online merchants. We have paetnered with BUKU to make it easier to manage your operational load. As a BUKU partner, we get the advantage of multiple cheaper expedited shipping options to remove the fuss from shipping and fulfillment, ensuring every single order is fulfilled as expected without hassle.
Related: Shipping 101 for Your eCommerce Business.
Elite OPS Order Fulfillment
Our is your one-stop shop for warehousing, logistics, and order fulfillment needs. With the best resources, tools, and knowledge to do the job, we help merchants do best without worrying about product fulfillment. That means you can grow and generate greater revenue.
Elite OPS has been a leader in Shipping and Logistics for over 25 years. Contact Us to find out how we can help you Save Time and Money on Procurement as a Service, eCommerce Order Fulfillment, and Kitting and Assembly.