4 Questions To Determine the Best Order Fulfillment Strategy.
When it comes to determining the best order fulfillment strategy, there are primarily a few options. Let's discuss them below.
1. Size of business and volume of orders
There are a few questions that need answer. You want to take a stock of the number of orders being shipped on a monthly basis. You may also want to find out the number of stock-keeping units sold. Besides, it is important to have an estimate of the number of orders you plan to ship in the coming month or year. Now all these answers will help you find the right order fulfillment solution.
With a low order volume, you may want to keep fulfillment in-house instead of outsourcing. On the other hand, if you have a steadily increasing order volume, your eCommerce fulfillment strategy becomes critical. That makes it crucial for you to look for one that scales with your business.
Related: 4 Benefits of a Streamlined eCommerce Supply Chain.
2. Sales channels
What platforms do you sell your products on? Do you use an eCommerce website or marketplace for selling your products? Which eCommerce platform do you prefer? You want to invest in a fulfillment software that seamlessly integrates with the online marketplace and eCommerce platform so you can easily manage the fulfillment process. The technology you use should streamline the fulfillment process, especially if you choose to sell across different channels. Technology should make it seamless to push any online order automatically to your fulfillment operations so the order can be fulfilled on time.
It is important to have a fulfillment service that gives you real-time update on inventory movement and stock in different locations. Invest in technology that connects upstream with downstream activities so you can make better purchase and production decisions.
Related: How Can a 3PL Cut Operational Costs for eCommerce Businesses?
3. Location matters
Do you have a local customer base or one spread across the globe? The "to and from" in terms of location play a crucial role in making an informed fulfillment strategy. When a customer is shopping online, it is the shipping time and cost that influence their decision.
As an eCommerce business, you may want to make sure that customers don't have to pay high shipping cost. Alternatively, it is important that there are no shipment delays. In order to fulfill customer expectations, you should focus on minimizing the number of shipping zones to where an average package travels. When shipping cost comes down, you can have a bunch of happier customers.
It is ideal to have multiple locations closer to your customer base in order to lower logistics costs and shipping times and thus keep conversions high.
Related: Is it Time to Reevaluate Your eCommerce Fulfillment?
4. Customization
Do you deal in made-to-order products? Is customization a priority in your business? Do your customers remember you for your custom-made products?
If so, it might help to choose a hands-on strategy for the supply chain. By outsourcing fulfillment, you could end up giving up control over customization. It is crucial to pick an outsource partner that knows how it is done so you can focus on your core business.
Related: What Do Your eCommerce Customers Want in 2023?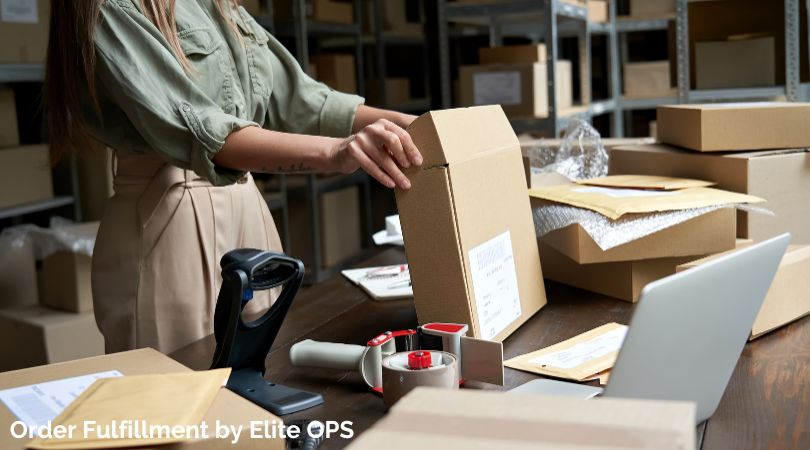 Order Fulfillment Options
Third-party fulfillment
This involves outsourcing fulfillment logistics to a third party, such as inventory management, picking and packing, and shipping. A 3PL provider is also responsible for managing returns.
Working with a third-party provider makes sense if you lack the space or bandwidth for order fulfillment in-house. This can save time and allow you to focus on core competencies. They have the infrastructure, resources, and expertise in inbound and outbound logistics that you can leverage for order fulfillment.
Related: 5 Ways Elite OPS eCommerce Fulfillment Can Help You.
Merchant fulfillment
This type of fulfillment involves completing order fulfillment in house, including storing inventory and packing orders. That's why merchant fulfillment is also known as self- or in-house fulfillment.
You have greater control over retail supply chain. However, it can be costly to scale with the growth of your business. In that situation, you can invest in fulfillment infrastructure and work on expanding your fulfillment operations
Dropshipping
This is a hands-off approach, where the manufacturer is responsible for producing, storing, and shipping the inventory. When an order is placed, the manufacturer receives the details and ships the products directly to the end consumer.
Dropshipping is an attractive fulfillment option for new businesses due to the minimal overhead cost and low barriers to entry. But it turns expensive if manufacturers are located overseas. In that case, shipping time and cost rise, taking longer shipment time. It becomes more expensive too. Merchants who want control over the supply chain should not opt for dropshipping.
Related: How To Offer Fast & Affordable Shipping for eCommerce.
Bottom Line
If you are looking for a reliable 3PL provider that can take care of your eCommerce order fulfillment, trust only the experts. For merchants looking for greater control over the supply chain, it is better to opt for in-house fulfillment.
An external fulfillment service partner like Elite OPS is responsible for picking, packing, and shipping orders. Consider such a strategy to reduce shipping and operational costs.
Elite OPS has been a leader in Shipping and Logistics for over 25 years. Contact Us to find out how we can help you Save Time and Money on Procurement as a Service, eCommerce Order Fulfillment, and Kitting and Assembly.