eCommerce Fulfillment Strategies for Success in the Holiday Season.
eCommerce fulfillment is crucial to the success of a business. Customers expect you to be full on stocks all the time, especially during the holiday season. They also expect you to ship fast so they can receive orders on time. Additionally, an eCommerce business should have an easy return policy to prevent any hassle for consumers in returning items. Success in the holiday season depends on how an eCommerce store is able to stand out from the competition and deliver a better customer experience.
The holiday season might be a good time for a retail business, online store, or startup to partner with a fulfillment company and effectively manage peak shopping rush of 2022. The goal is to meet customer expectations for eCommerce shopping.
What is eCommerce Fulfillment?
Order fulfillment is the process of selecting products after a customer has placed an order and then packing and delivering the same on time. It an all-inclusive process that involves inventory management, packaging and preparing items for shipping, managing delivery logistics, and handling returns and restocks.
It is here that an outsourcing third-party logistics provider becomes crucial in managing every part of the fulfillment process. A fulfillment party has the resources, tools, and experience to offer higher efficiency, scalability, expertise, lower cost, and high levels of service as compared to managing it all in-house.
Benefits of Outsourcing eCommerce Fulfillment
Scalability
With a third-party logistics provider, a retail business has a better ability to scale as the former can manage unexpected spikes in demand during the peak seasons. They have infrastructure, staffing, and capacity to handle sudden spikes and can scale to meet the growing needs of customers. With a fulfillment partner, you can have peace of mind that customers will receive the right orders with guaranteed delivery.
Specialized expertise
With a fulfillment partner, a retail business does not need to bother about in-house expertise on all forms of fulfillment. An eCommerce fulfillment provider has experience in managing supply chains, inventory, warehouse management, custom packaging, order processing and management, shipping rates and process, returns processing, and fulfillment operations. That means you can focus on core business as you have the guarantee that your order fulfillment partner is taking care of inventory, orders, and delivery.
Simplified operations
With an eCommerce fulfillment partner, the complexities in the order fulfillment process are resolved, making it easier for eCommerce retail to lower cost, drive efficiency, and improve profit.
Better opportunities
There are better growth opportunities with a third-party logistics provider as you don't need to invest in your own warehouse, manage infrastructure cost, employ fulfillment staff. In fact, a logistics partner gives you the advantage of lower overhead costs so you on focus on growth, automation, and innovation with a goal to improve customer experience and boost business.
Related: 5 Ways Elite OPS eCommerce Fulfillment Can Help You.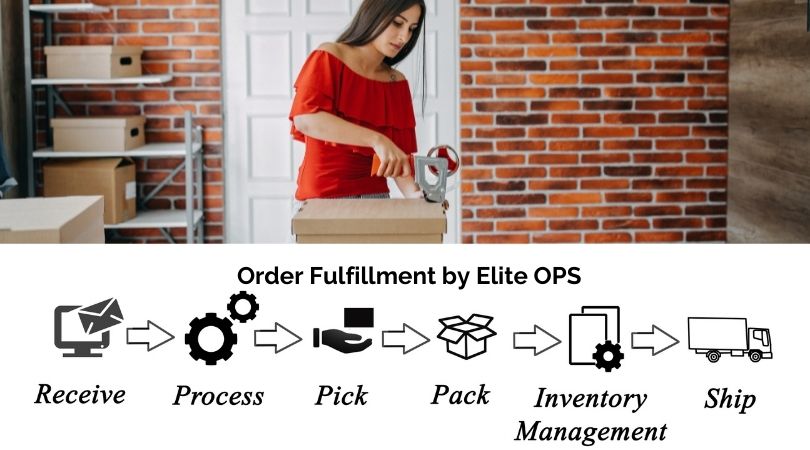 How to Choose a Fulfillment Partner for Holiday Rush 2022
With an overwhelming number of third-party eCommerce fulfillment providers, it might be challenge to make the right choice. The idea is to choose a service provider that has experience in the industry, understands your industry and customer expectations, and offers the best solution for your fulfillment needs.
The right fulfillment partner:
Has the ability and capacity to scale. Make sure they have proven metrics to prove that they can actually do what they claim.
Is located close to customers. You want to make sure their fulfillment centers are strategically located in geographic locations so there are no hurdles in timely order fulfillment. Elite OPS has warehouse locations in the Eastern and Western United States.
Has access to cutting-edge cloud-based technology that ensures integrations into your existing platforms hassle free. Look for a partner that focuses on transparency and ensures real-time visibility into inventory levels. This also ensures that they can provide business intelligence and analytics to improve customer satisfaction rates.
Has the technical prowess, staffing, infrastructure, and capacity to handle orders, store inventory, ship orders, and fulfill orders while keeping cost down.
Is quick to adapt to your requirements. Whether you're just starting out with a third-party fulfillment provider or switching to a new one, the on-boarding process should be fairly easy with seamless integration.
Related: 4 Benefits of a Streamlined eCommerce Supply Chain.
What to look for in an eCommerce fulfillment partner?
Hassle-free returns
The best fulfillment partner is able to handle the entire returns process effortlessly. This includes providing return instructions as well as pre-paid shipping labels.
Shipping options
The best fulfillment partner is willing to offer multiple shipping options to remove hassles from fulfillment. They also use automation and machine learning – the key tools to ensure fastest product delivery.
Related: How To Offer Fast & Affordable Shipping for eCommerce.
Value-added services
A third-party fulfillment services provider that offers value-added services, such as personalization, customized packaging, custom blending, and gift wrapping, is one of the best choices. They have everything to connect customers to the essence of your brand.
Marketplaces
An eCommerce fulfillment partner helps you expand your market by finding a place for you in top online marketplaces without setting up new channels.
Customer support
With the best fulfillment partner, you have access to top customer support services to manage high order volumes throughout the year.
Related: How Can a 3PL Cut Operational Costs for eCommerce Businesses?
Elite OPS has been a leader in Shipping and Logistics for over 25 years. Contact Us to find out how we can help you Save Time and Money on Procurement as a Service, eCommerce Order Fulfillment, and Kitting and Assembly.