What is Order Fulfillment and How Does it Work?
A negative delivery experience could cost your business dear as 37% of shoppers are unwilling to choose an eCommerce retailer again after a bad experience. So your eCommerce order fulfillment strategy is critically important to your business growth.
Steps to Better eCommerce Order Fulfillment.
Choose the right third-party logistics provider based on their experience and customer service in the fulfillment industry. Order fulfillment starts at the time a sale takes place and includes everything in the process until the product is successfully, safely delivered to the customer. The process includes successfully receiving, picking, processing, and shipping & delivering an order to customers. The success of order fulfillment is integral to building customer loyalty and staying competitive.
How Does Order Fulfillment Work?
When a customer places an order with your eCommerce store, the process of order fulfillment begins with the third-party logistics provider.
Receiving
Receiving connotes accepting and storing inventory at their fulfillment center. Remember, a 3PL cannot commit to order fulfillment if they don't have your inventory in-hand. They may document all inventory to keep things organized so they can ensure order fulfillment without delay. After receiving the merchant's inventory, the 3PL places the items in dedicated locations, including specific pallets, shelves, and bins.
Picking
The picking team gets the order assignment when an order is sent to the third-part logistics fulfillment system. Now starts the job of a picker, who is responsible for collecting the ordered products from their locations. They follow the order details that mention the type of items, number, and storage location.
Packing
After picking the items, the next step is to securely pack the order. While some third-party providers may charge for packing, others might offer it for free. When it comes to choose packing materials, the 3PL picks one that is durable enough to protect the products without adding too much weight to the complete order. They choose packing material with the lowest practical dimensional weight. Some of the most common packing stuff includes poly bags, bubble mailers, bubble wrap, boxes, packing tape, and air fill, among others.
Some eCommerce retailers prefer their own brand packages. In that case, look for 3PLs that allow stocking of custom boxes.
Shipping
After the packing is complete, it's time for shipping the order. The 3PL may purchase shipping labels from a carrier on behalf of the eCommerce merchant. A 3PL may have a preferred carrier partner or might want to compare shipment cost from different carriers. Some major carriers pick orders directly from fulfillment centers for shipping.
The eCommerce merchant receives order tracking details as soon as the 3PL ships the order, which may further be automatically shared with customers.
Related: How To Offer Fast & Affordable Shipping for eCommerce.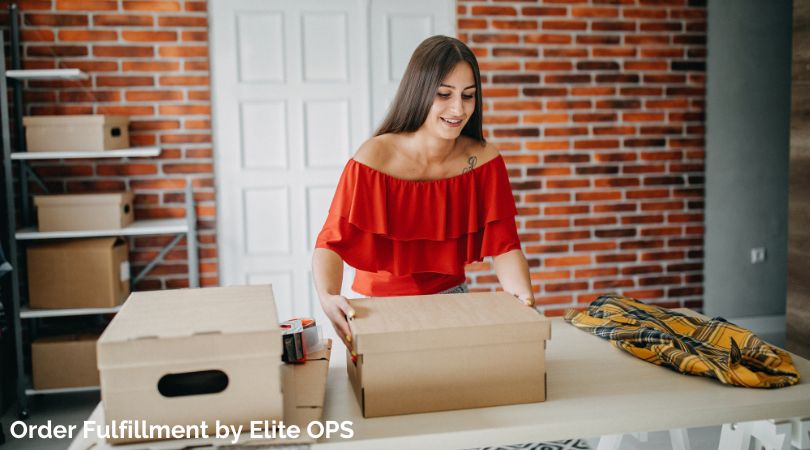 Order Fulfillment Tips To Do It Right Each Time
Fix your receiving strategy
You cannot ignore the receiving part in the fulfillment process. Optimize the process and be ever-ready to act fast. Your goal should always be to process the shipment quickly and ensure a fast delivery.
Be ready with anytime backup strategy
Now you don't want to mess it up when it comes to shipping. Have a backup strategy ready so you can avoid any preventable shipping mistakes. In worst scenarios, goods can get damaged in transit or carriers may suddenly hike the charges. Of course, you have no control over the weather so anything can happen. It's here that a good backup strategy will keep you organized and ever ready for emergencies.
Anticipate demand
You don't want to enter into a situation of more demand than supply. If that happens, you might end up losing customers when they don't get what they desire. So keeping an adequate amount of supplies is crucial to keeping up with the demand. Look for any specific seasonal demands from previous years to anticipate things. Analyzing your data is the key to understanding market demand for timely order fulfillment.
Related: Is it Time to Reevaluate Your eCommerce Fulfillment?
An external fulfillment service partner like Elite OPS is responsible for picking, packing, and shipping orders. Consider such a strategy to reduce shipping and operational costs.
Elite OPS has been a leader in Shipping and Logistics for over 25 years. Contact Us to find out how we can help you Save Time and Money on Procurement as a Service, eCommerce Order Fulfillment, and Kitting and Assembly.